Masterful Piano Tuning
There's a reason why we're the first choice for piano tuning in the South Sound region. With over 40-years' experience, Registered Piano Technician Dan Skelley uses state-of-the-art electronic equipment and a well-trained ear to produce the best tuning results possible to bring out the clarity and sustained resonance from your fine instrument. The basic tuning charge is $185. However, if your piano has not been tuned in over a year, there is sometimes an extra $40 service charge to adjust the pedals, make sure the keys are all working with minimal friction and that the hammers are properly fitted to the strings. We also offer expert piano restoration and custom action leverage design services, as well as new and used piano sales.
Voicing Expert
Most musicians rely on their technique and years of study to produce beautiful tones and melodies from their instruments. But with a stringed instrument like a piano, tone quality is also heavily influenced by its optimization in a tuning session.
Many pianists consider voicing to be little more than inserting needles into hammers to change tone quality. While this is partially true, there are very few technicians who perform the procedures needed prior to needling, and this often prevents the piano from producing its sweetest possible sound. All the strings must first be properly seated on their bearing points, and hammers must be properly shaped, level at their apexes, and fitted to hit all three strings simultaneously. Correct hammer fitting promotes sustained and clear tonal power. Only after these preparations are made can the piano be optimally tuned and regulated and the tone-building process begun.
Only an experienced concert technician knows the exact placement and depth of the needle to achieve optimal results. Dan Skelley's experience comes from years of working on and tuning Steinways, and from the deep level of training he received at the Steinway factory in New York.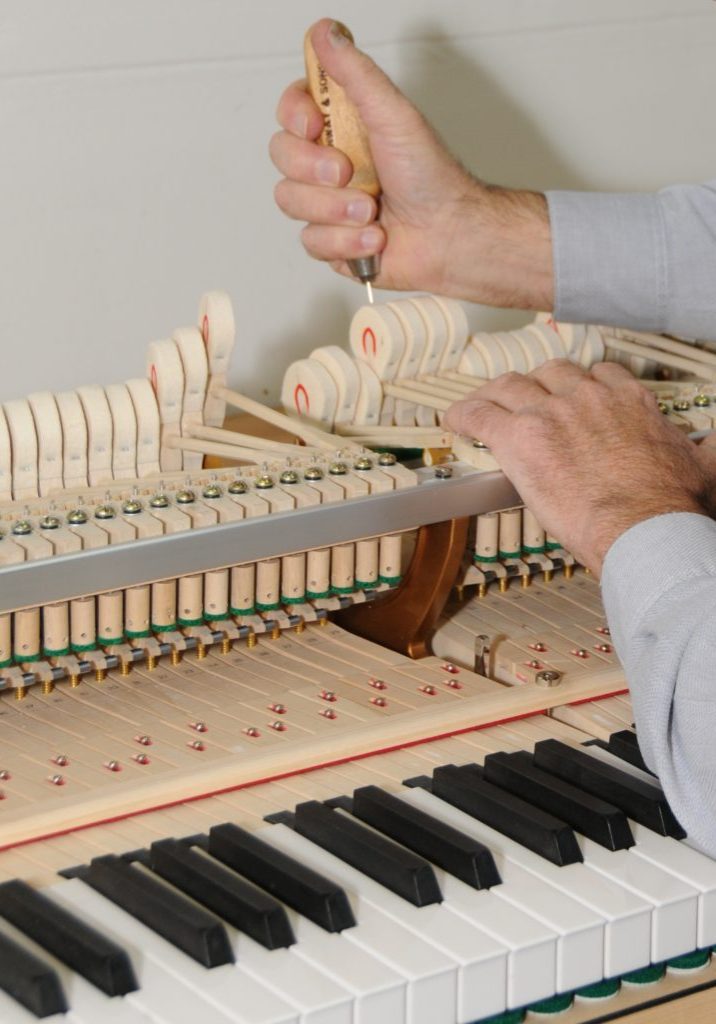 Registered Piano Technician in University Place
Serving University Place, Tacoma, Auburn, Kent, Olympia, Federal Way, Lakewood, Gig Harbor, Puyallup.
Reviews/Testimonials
We called Dan Skelley for piano service on the recommendation of our son's piano teacher in Puyallup. We inherited a baby grand piano that is now over 90 years old and, though well cared-for, hadn't been serviced in well over a decade. Five very well-deserved stars for Mr. Skelley: easy to communicate with, arrived on time and prepared, friendly yet unintrusive, efficient and thorough, exceptionally experienced, and all for a very reasonable price. I will hire Dan Skelley until his retirement forces me to someone else.

Micah & Melanie Wilson


I highly recommend Skelley Piano for piano tuning and repair or purchasing a new or used piano! When Dan Skelley tuned my old upright piano recently, I mentioned I was looking for a piano with a better sound to have in my living room and that I grew up with Steinways. He invited me to come to his shop and look at a Pearl River piano. I was very pleasantly surprised by the beautiful, rich tone quality and the responsive action of the 43 inch Pearl River EU111PC—it belies the size of the piano! It is a dream to play! I also loved the satin mahogany finish. I played several other pianos, both new and used, and ended up purchasing the 43 inch. The Pearl River pianos are a great value for the price and he even discounted the piano by $100 since I had just had him tune a piano for me. There was one string in the piano he was not happy with. He removed the string and ordered a replacement string which he will install. This speaks to his attention to quality and detail of his products, as well as his integrity. He also offers a five year warranty! I couldn't be happier with my beautiful new piano! Thank you, Dan!

Alan and Paula Aplin


I highly recommend Skelley Piano! I'm a private piano teacher and I was looking for a high quality grand piano. We looked at other piano stores but Dan's skill and attention to detail exceeded our expectations. My husband and I just bought the Ritmuller GH160R and we love it's clear and warm tone. Dan is very patient and worked with us to find the right instrument, and even met with us outside of the store's usual hours. We wouldn't go to anyone else to service our new piano, and I would not hesitate to recommend Skelley Piano to any of my friends, family, or students!

Liz Moore


So glad to have found Mr. Skelley (and hope he never retires!). We really appreciate all your expertise. I had bought a used baby grand off Offer Up. It was beautiful but hard to play. He made it playable again and now my kids have a beautiful piano to learn on. Thank you!

Yuri Lee


What a delight to buy my piano through Dan Skelley. There was never any pressure, just good information, lots of time to try different pianos, many answered questions, and unmatched customer service. Dan's biggest priority was that I was happy with whatever it was that I selected. His five-year warranty on my piano proves that he wants customers to be satisfied in the long-term. Highly, highly recommended for anyone looking for a used or new piano.

Jana Fullerton


I highly recommend Skelley Piano! I'm a private piano teacher and I was looking for a high quality grand piano. We looked at other piano stores but Dan's skill and attention to detail exceeded our expectations. My husband and I just bought the Ritmuller GH160R and we love it's clear and warm tone. Dan is very patient and worked with us to find the right instrument, and even met with us outside of the store's usual hours. We wouldn't go to anyone else to service our new piano, and I would not hesitate to recommend Skelley Piano to any of my friends, family, or students!

Liz Cooper


Dan is so knowledgeable and always does a great job tuning and maintaining my piano. I highly recommend his services!

Suzie Chang


I purchased the piano and it needed voicing. I called on a Friday; Mr. Skelley came the next Tuesday! 😊 Amazingly quick service, and he didn't leave until it sounded right in the room. Very competently done.

Judith Lee


Recently I contacted Dan to see if he could tune my very old and extremely special piano and reapply the ivory's that had come off of the keys. My piano had belonged to my mother who had passed when I was a teenager. This piano meant the world to me!!! Dan did an amazing job of replacing the ivory on the keys and spent a lot of time carefully and expertly tuning the piano. He was very professional and did an outstanding job!!!! I highly recommend if anyone needs any work done on their piano that you call Dan!!!! When he finished tuning the piano he sat down and played beautiful music and it was like I was hearing my mom play again. He did a fantastic job fixing the piano and was a delight to talk to.

Person Personson