Custom Action Leverage Design in University Place & Greater Tacoma
The experts at Skelley Piano have provided outstanding custom action leverage design services to pianists in University Place and the greater Tacoma area for over 40 years. Locally-owned and operated, our extensive training and experience keeps hundreds of local pianos in top-notch condition. Contact us today and discover why we're the first choice in the area for so many pianists.
Our Custom Action Leverage Design Service
While offering a wide variety of services including top quality new and used piano sales, piano tuning and restoration, Skelley Piano specializes in custom action leverage design (CALD). As time passes, wear from regular usage takes a toll on even the finest pianos. Hammers become worn and harsh sounding, key felt bushings become loose and wobbly, and a lack of dynamic control and range creep in. The cost of CALD starts at $1,900.
Benefits of CALD
If your older piano is in need of new musical life, consider scheduling CALD service. New piano technology has advanced to the point that customizing touch and action can result in performance surpassing the original, even if the piano is from a well-known maker.
What to Expect from CALD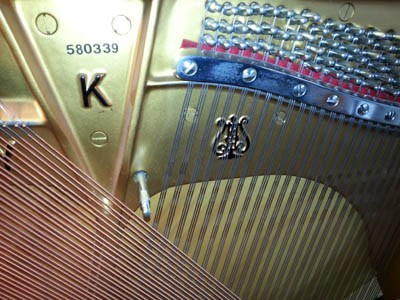 The modern grand piano action is made up of a complex series of arcs and levers with precise leverage, weight, friction and inertia. These all combine to deliver the touch and feel of your piano, and it's now possible to analyze them and duplicate the touch and feel of the finest German-made pianos. During the CALD process, Dan Skelley uses the Fandrich Rhodes weight bench computer program to evaluate how actions are performing. He's one of only a few technicians in Washington with the equipment and experience to deliver this degree of accuracy in action design.

Call Skelley Piano in University Place for Expert Custom Action Leverage Design, and Let Your Piano Sing!
Serving University Place, Tacoma, Federal Way, Lakewood, Gig Harbor, Puyallup, Graham & Kent
including all of Pierce and King Counties